CERTIFIED TOOLS
Here at the Resourceful People Group we want to ensure we do everything we can to help our clients. We use a very healthy mix of knowledge and experience gained from working with a wide range of organisations and sectors, both in the UK and internationally. But we also ensure we utilise the best tools available to ensure that our clients can access them so that we can better enable and support success.
Insights Personality Profiling

We are certified Insights Discovery™ Practitioners & Distributor.
Using this fabulous Insights Discovery assessment allows our clients to discover a better understanding of themselves but also of others (team members, clients, suppliers and other stakeholders).
Often people know the Insights tool in relation to their own personal personality profile but there are many other advanced features supporting the creation and enhancement of effective teams, effective selling, management development and collaboration.
Please click onto the separate page to explore more about this fabulous tool
AQai Adaptability Assessments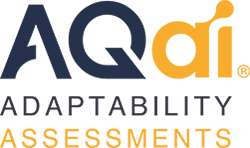 We are very pleased to confirm that we are certified users of the powerful AQai™ Adaptability Assessment suite. This is a relatively new tool based on significant research & data. We are very excited as it provides our clients with tremendous insight in how they can better prepare themselves to adapt to the ever changing and fluid world that we increasingly operate within.
Please click onto the separate page to explore more about this fabulous tool.
LUPARL

We believe our approach to 1-2-1 coaching using our own LUPARL model is focused on both maximising our relationship with our client and achieving a defined goal.
Throughout our coaching relationship with our client we may use a variety of different techniques and tools, including but not limited to Insights Discovery and AQai.
We believe that any coaching relationship should be based on transparency, confidentiality and mutual respect.
Contact us to find out more.